World's 50 Best Restaurants 2021: risultati dei ristoranti italiani, conferme e sorprese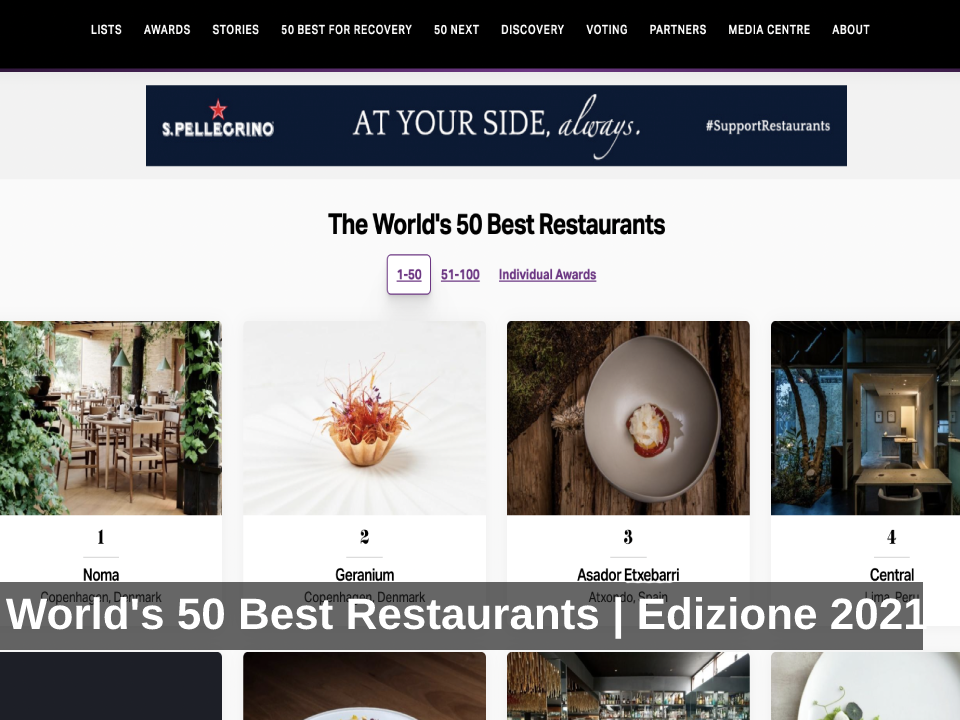 En plein fantastico del Noma di René Redzepi in questo 2021. Solo a metà settembre aveva conquistato la tanto bramata terza stella Michelin e quasi 3 settimane dopo torna sul tetto del mondo, vincendo l'edizione 2021 del "World's 50 Best Restaurants". Questa è la notizia principale che arriva da Anversa, ma andiamo con ordine.
RITORNO DOPO LO STOP DEL 2020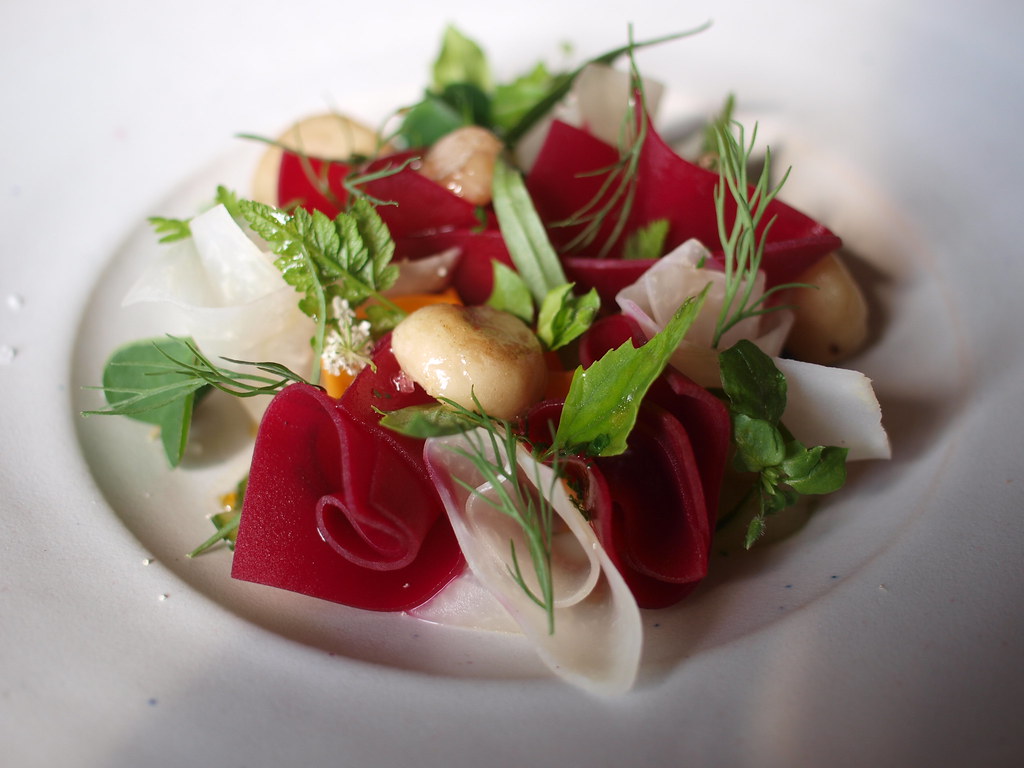 Tra i tanti eventi cancellati nel 2020 a causa dello scoppio della pandemia per Covid-19, anche il "World's 50 Best" dovette rinunciare – per la prima in 20 anni – ad organizzare la kermesse che premia i migliori 50 ristoranti del mondo, un appuntamento tra i più attesi l'anno nel mondo della ristorazione al pari delle rivelazioni nazionali della Guida Michelin. Quest'anno la cerimonia di premiazione si è svolta ad Anversa, in una nazione (il Belgio) dove le restrizioni anti-coronavirus sono state rimosse dai bar e dai ristoranti ad eccezione che nella città di Bruxelles, pertanto questa edizione è stata probabilmente colma di entusiasmo e di voglia di ripartenza senza nuovi grattacapi (già ce ne sono stati troppi, n.d.a.) da parte di tutti i professionisti del settore.
HALL OF FAME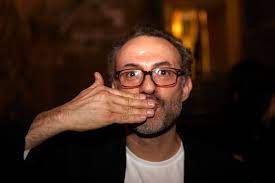 Come già anticipato, a trionfare è stato il Noma, ristorante leggendario di base a Copenaghen e punto di riferimento della cucina nordica contemporanea (insieme a quella peruviana è considerata da anni tra le più interessanti nel panorama intercontinentale), ma non si tratta del suo primo successo. Praticamente una presenza fissa nel podio dal lontano 2009, quando arrivò terza, seguita dai 3 primi posti consecutivi nel 2010, 2011 e 2012; medaglia d'argento invece nel 2013, successivamente di nuovo vincitore nel 2014, poi terzo posto l'anno dopo, quinto nel 2016 ed infine secondo nel 2019. Ma alcuni sono rimasti perplessi: non era più "vietato" vincere la classifica per i precedenti vincitori?
Bisogna ricordarsi infatti che dal 2019 è stato istituito il "Best of the Best", ovvero la Hall of Fame della competizione, dove rientrano i precedenti vincitori che quindi non potranno più partecipare alle successive edizioni, come l'Osteria Francescana di Massimo Bottura (2016 e 2018), o anche gli altri precedenti vincitori: El Bulli (2002, 2006-2009), The French Laundry (2003-2004), The Fat Duck (2005), El Celler de Can Roca (2013, 2015), Eleven Madison Park (2017) e Mirazur (2019). E allora perché ha potuto vincere il Noma quest'anno? Semplice: avendo cambiato location (in seguito alla chiusura del 2018) è stato considerato quest'anno come un "nuovo" ristorante e quindi ha potuto entrare nella competizione – e vincerla. Dall'anno prossimo non sarà possibile bissare nuovamente il successo ed entrerà anche esso a far parte della Hall of Fame.
PODIO
A completare il podio invece è stato il Geranium, altro pezzo da 90 di base nella capitale danese, che nell'edizione precedente era arrivato secondo. Medaglia di bronzo invece per Asador Etxebarri, il gotha della griglia che si trova nei Paesi Baschi (Spagna).
ITALIA
E l'Italia? Sulla scia dei grandi risultati sportivi di quest'anno, il Belpaese ha portato a casa degli ottimi risultati. Il "Piazza Duomo" di Enrico Crippa (tre stelle Michelin ad Alba) raggiunge un ottimo 18° posto, guadagnando 11 posizioni rispetto all'edizione precedente. "Le Calandre" dei fratelli Alajmo (Rubano, 3 stelle Michelin) avanza di 5 posizioni e arriva 26°, mentre il "Reale" di Niko Romito a Castel di Sangro (3 stelle Michelin) torna in top-50 dopo l'assenza dall'edizione 2019 e arriva 29esimo. Ma probabilmente il risultato più sorprendente è stato quello del "Lido 84″ di Riccardo Camanini a Gardone Riviera (1 stella Michelin). Il ristorante, dopo aver debuttato due anni fa al 78° posto in cui vince il Premio "One to Watch", fa un incredibile balzo in avanti e arriva quindicesimo, aggiudicandosi il premio di "Highest New Entry Award 2021, sponsored by Aspire Lifestyles". Temo che ora andare da lui sarà pressoché impossibile e bisognerà prenotare chissà quanti mesi prima… ma sono contentissimo per lui e tutti gli altri ristoranti nostrani di questi bellissimi risultati! Inoltre, scendendo nella seconda parte della classifica (top-100, quindi) troviamo altri 2 ristoranti tre-stellati: il "Mauro Uliassi" a Senigallia (52° controil 61° del 2019) ed il St. Hubertus di San Cassiano in Alta Badia di Norbert Niederkofler (54°). Concludiamo questo pezzo sui nostri rappresentanti con la menzione speciale alla chef Viviana Varese che ha vinto il premio "Champion of change" grazie al suo lavoro di inclusione nei suoi ristoranti, lei che in passato ha subito diverse discriminazioni per essere donna, lesbica e meridionale. I brutti episodi del passato però non le hanno fatto passare la voglia ed il desiderio di rendere il suo luogo di lavoro un posto dove chiunque può lavorare, senza alcun tipo di discriminazione ed anzi; incoraggiando i lavoratori ad essere loro stessi. Quindi bravi, bravi tutti!
CLASSIFICA TOP-50
Di seguito, ecco la classifica completa del "World's 50 Best Restaurants" 2021. P.S.: i ristoranti che hanno accanto l'asterisco (*) simboleggiano ristoranti che quest'anno sono new entry nella classifica:
1) Noma, Copenaghen, Danimarca 🇩🇰
2) Geranium, Copenaghen, Danimarca 🇩🇰
3) Asador Etxebarri, Atxondo, Spagna 🇪🇸
4) Central, Lima, Perù 🇵🇪
5) Disfrutar, Barcellona, Spagna 🇪🇸
6) Frantzen, Stoccolma, Svezia 🇸🇪
7) Maido, Lima, Perù 🇵🇪
8) Odette, Singapore 🇸🇬
9) Pujol, Città del Messico, Messico 🇲🇽
10) The Chairman, Hong Kong 🇭🇰
11) Den, Tokyo, Giappone 🇯🇵
12) Steirereck, Vienna, Austria 🇦🇹
13) Don Julio, Buenos Aires, Argentina 🇦🇷
14) Mugaritz, San Sebatian, Spagna 🇪🇸
15) Lido 84, Gardone Riviera, Italia 🇮🇹
16) Elkano, Getaria, Spagna 🇪🇸
17) A casa do porco, San Paolo, Brasile 🇧🇷
18) Piazza Duomo, Alba, Italia 🇮🇹
19) Narisawa, Tokyo, Giappone 🇯🇵
20) *Diverxo, Madrid, Spagna 🇪🇸
21) Hisa Franko, Caporetto, Slovenia 🇸🇮
22) Cosme, New York, USA 🇺🇸
23) Arpege, Parigi, Francia 🇫🇷
24) Septime, Parigi, Francia 🇫🇷
25) White Rabbit, Mosca, Russia 🇷🇺
26) Le Calandre, Rubano, Italia 🇮🇹
27) Quintonil, Città del Messico, Messico 🇲🇽
28) Benu, San Francisco, USA 🇺🇸
29) Reale, Castel di Sangro, Italia 🇮🇹
30) Twins Garded, Mosca, Russia 🇷🇺
31) Restaurant Tim Raue, Berlino, Germania 🇩🇪
32) The Clove Club, Londra, Regno Unito 🇬🇧
33) Lile's, Londra, Regno Unito 🇬🇧
34) Burnt Ends, Singapore 🇸🇬
35) Ultraviolet, Shangai, Cina 🇨🇳
36) Hof van Cleve, Kruishoutem, Belgio 🇧🇪
37) Singlethread, Healdsburg, USA 🇺🇸
38) Borago, Santiago, Cile 🇨🇱
39) Florilege, Tokyo, Giappone 🇯🇵
40) Suhring, Bangkok, Thailandia 🇹🇭
41) Allenò Paris, Pavillon Ledoyen, Parigi, Francia 🇫🇷
42) Belcanto, Lisbona, Portogallo 🇵🇹
43) Atomix, New York, USA 🇺🇸
44) Le Bernardin, New York, USA 🇺🇸
45) *Nobelhart & Schutzig, Berlino, Germania 🇩🇪
46) Leo, Bogotà, Colombia 🇨🇴
47) Maaemo, Oslo, Norvegia 🇳🇴
48) Atelier Crenn, San Francisco, USA 🇺🇸
49) Azurmendi, Larrabetzu, Spagna 🇪🇸
50) *Wolfgat, Paternoster, Sud Africa 🇿🇦
C'è qualche ristorante in particolare che vi sorprende vedere in questa classifica? O che magari vorreste vedere nella prossima edizione? Fatemelo sapere nei commenti!