Visita presso "Ornellaia" (Bolgheri)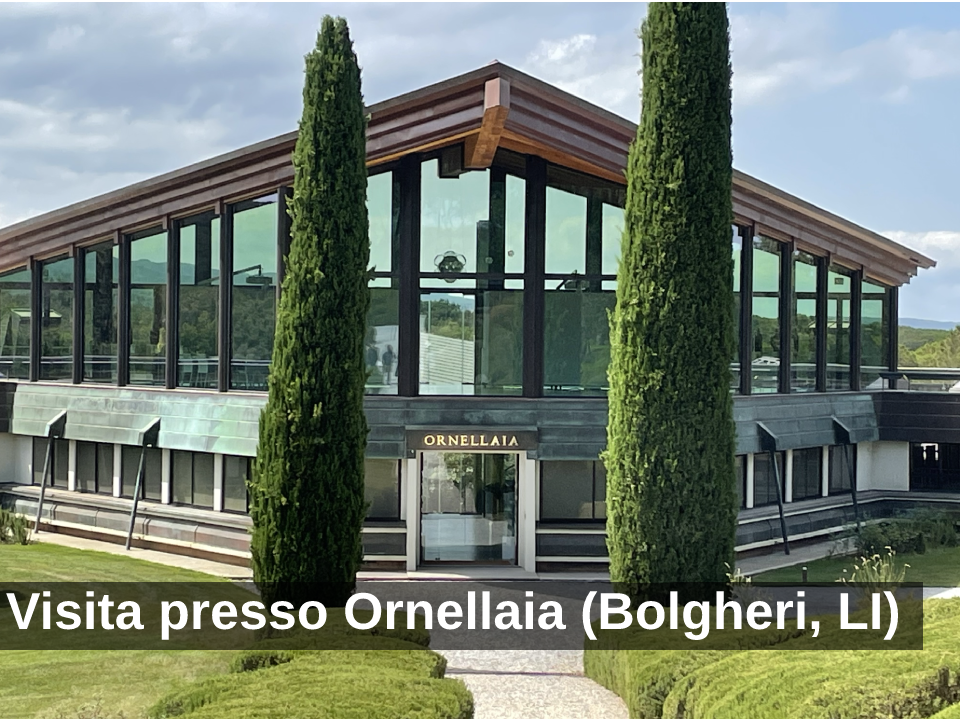 DISCLAIMER: tutte le foto presenti in questo articolo sono state scattate dal sottoscritto. Si invita a non utilizzarle e pubblicarle senza previa autorizzazione.
L'insieme degli appartenenti all'aristocrazia o ( estens. ) i più importanti esponenti di un determinato gruppo o ambiente.
Vero, i gusti son gusti, e lo dice il sottoscritto che è un ferreo difensore della filosofia de gustibus. Tuttavia ci sono alcune eccezioni che devono trascendere il gusto personale. Magari è una cantina che produce dei vini che non vengono apprezzati, piaciuti o compresi da tutti, ma penso sia più che giusto annoverare Ornellaia nel gotha del vino italiano – ed internazionale – a prescindere dalla propria inclinazione gustativa.
Prima di raccontare l'esperienza che io ed i miei compagni di viaggio abbiamo vissuto, penso sia doveroso illustrare qualche cenno storico per coloro che leggono e non conoscono questo gioiello toscano. Ornellaia vede la luce nel 1981 per opera del Marchese Lodovico Antinori, uno dei principali protagonisti della scena vinicola italiana, grazie al quale sono nate eccellenze come per l'appunto Ornellaia, ma anche Masseto e la Tenuta di Biserno – tutte a Bolgheri: insomma, uno dei padri del grande vino italiano.
Le prime viti vennero piantate l'anno successivo, mentre sarà necessario aspettare il 1988 per vedere il debutto della prima annata del vino di punta dell'azienda, l'omonimo Ornellaia (vendemmia del 1985, la prima dell'azienda). Nel 2006 viene invece completata la nuova barricaia della cantina che, come potete vedere qui sotto, è una vera e propria opera d'arte.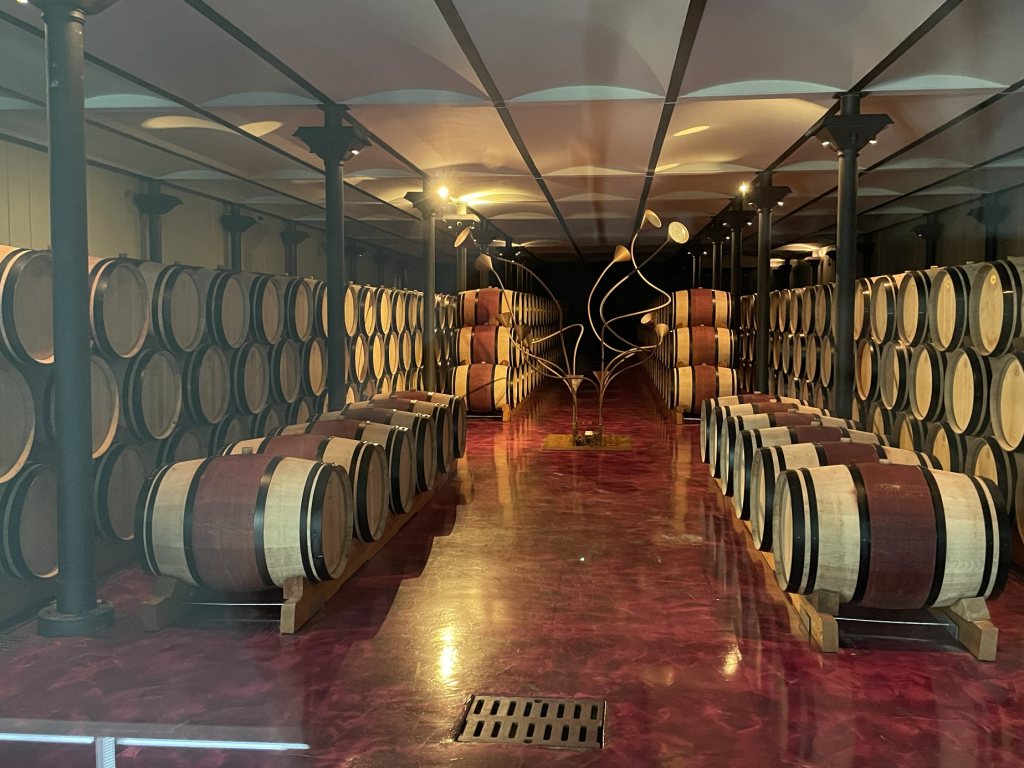 Ma quando la barricaia viene finalizzata, sono già diversi anni che l'azienda ha cambiato proprietà. All'alba del nuovo millennio, nel 1999, il Marchese cede una quota di minoranza a Robert Mondavi, grandissimo produttore di vini in California. Tre anni dopo, nel 2002, Robert Mondavi acquisisce la totalità di Ornellaia e cede il 50% alla "Marchesi de' Frescobaldi", altra famiglia importantissima per il mondo del vino italiano, con una tradizione oserei dire quasi millenaria nel mondo vinicolo. Fu però nel 2005 che si concluse l'iter di cambio di proprietà. Marchesi de' Frescobaldi, dopo la cessione della Robert Mondavi Corporation a Constellation Brands, acquisisce la restante quota del 50%, divenendo di fatto il proprietario di Ornellaia (ed anche di Masseto, n.d.a.). In un'intervista concessa tempo addietro dal Marchese Lodovico a Wine Spectator, egli confidò: "Mio padre mi ha sempre detto che nella vita un grande errore è concesso: io il mio l'ho commesso vendendo Ornellaia". E a proposito di Wine Spectator: nel 2001 proclamò come "Wine of the Year" la vendemmia 1998 dell'Ornellaia.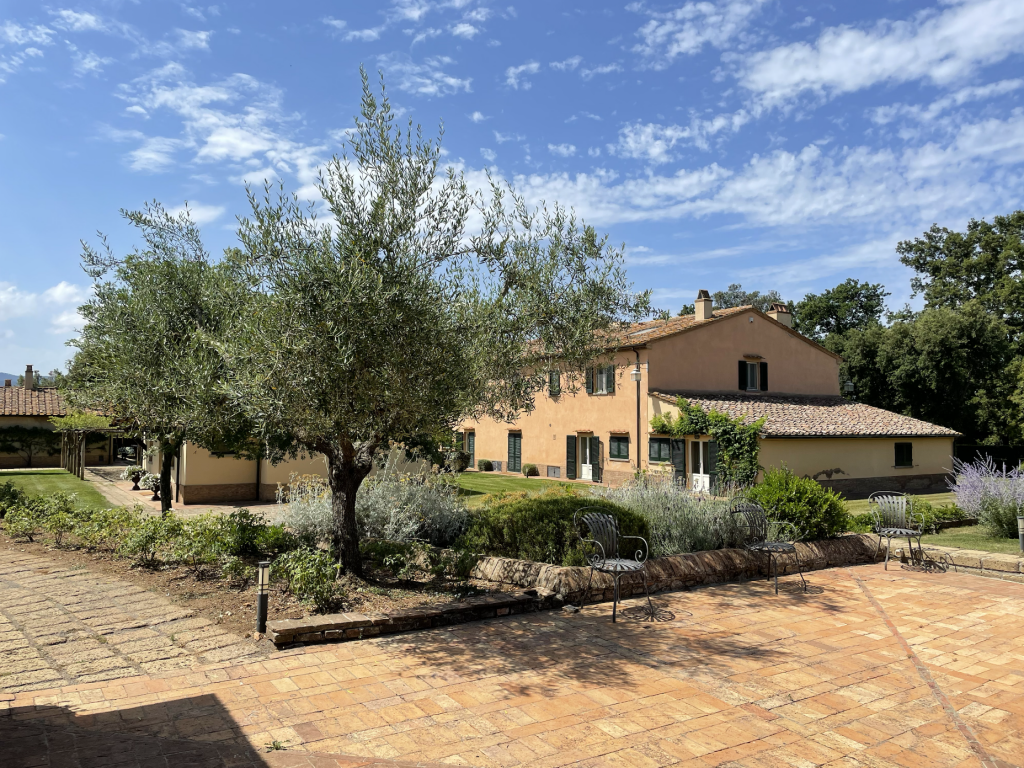 Fatta questa doverosa premessa, ora passo al racconto dell'esperienza. Arrivati alle 11 di mattina nel regale ingresso della tenuta, veniamo accolti e messi subito "alla prova" della temperatura. Una volta constatato che fossimo tutti in condizioni idonee, ci siamo subito trasferiti in macchina dall'ingresso, dove saremmo tornati dopo per la degustazione, a visitare la cantina. E qui, prima di avviare la parte più tecnica della visita, veniamo immersi in un trionfo di natura e soprattutto d'arte. Difatti, a partire dal 2009, è nato il progetto "Vendemmia d'Artista", per il quale credo sia doveroso citare testualmente l'azienda nel suo sito web per far capire esattamente di cosa si parla.
"Il progetto Vendemmia d'Artista celebra il carattere esclusivo di ogni nuova annata di Ornellaia. Ogni anno a partire dall'uscita di Ornellaia 2006, avvenuta a maggio 2009, un artista contemporaneo firma un'opera d'arte e una serie di etichette in edizione limitata, traendo ispirazione da una parola scelta dall'enologo che descrive il carattere della nuova annata.
Il progetto Vendemmia d'Artista prevede in ogni cassa di Ornellaia (contenente 6 bottiglie da 750 ml) una bottiglia con un'etichetta creata dall'artista e un'edizione limitata di 111 bottiglie grande formato (100 Double Magnum da 3 L, 10 Imperial da 6 L e 1 Salmanazar da 9 L) numerate e firmate personalmente dall'artista. I collezionisti di tutto il mondo si contendono queste bottiglie, alcune delle quali vengono battute all'asta durante un evento annuale di raccolta fondi a sostegno dell'arte. Il progetto Vendemmia d'Artista culmina con una opera d'arte, creata specificatamente per la tenuta, che unisce il carattere dell'annata all'ispirazione dell'artista nel luogo in cui nasce l'Ornellaia."
Una delle primissime installazioni – ed una delle mie preferite – è quella della vendemmia 2006, ovvero "l'Esuberanza", prodotta dall'artista Luigi Ontani il quale ha realizzato (in collaborazione con i maestri ceramisti di Faenza ) quattro sculture-colonne in ceramica posizionate proprio all'ingresso della cantina, il cui scopo è quello di simboleggiare le quattro stagioni e che operano come fontane.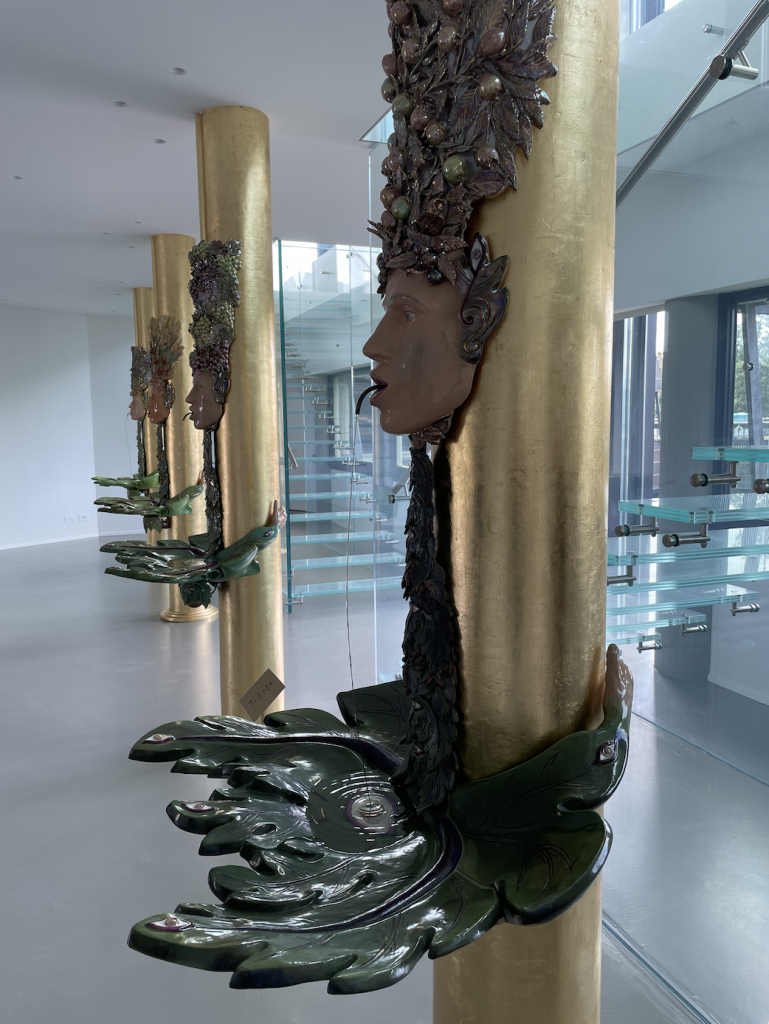 Nel 2012 invece, per celebrare la vendemmia del 2009, è stato coinvolto l'artista cinese Zhang Huan, il quale si è ispirato a Confucio, intitolando il suo progetto 'Questioning Confucius'. Al centro del cortile interno alla cantina, l'artista ha realizzato una scultura in acciaio che raffigura il maestro cinese – che potete vedere qui sotto.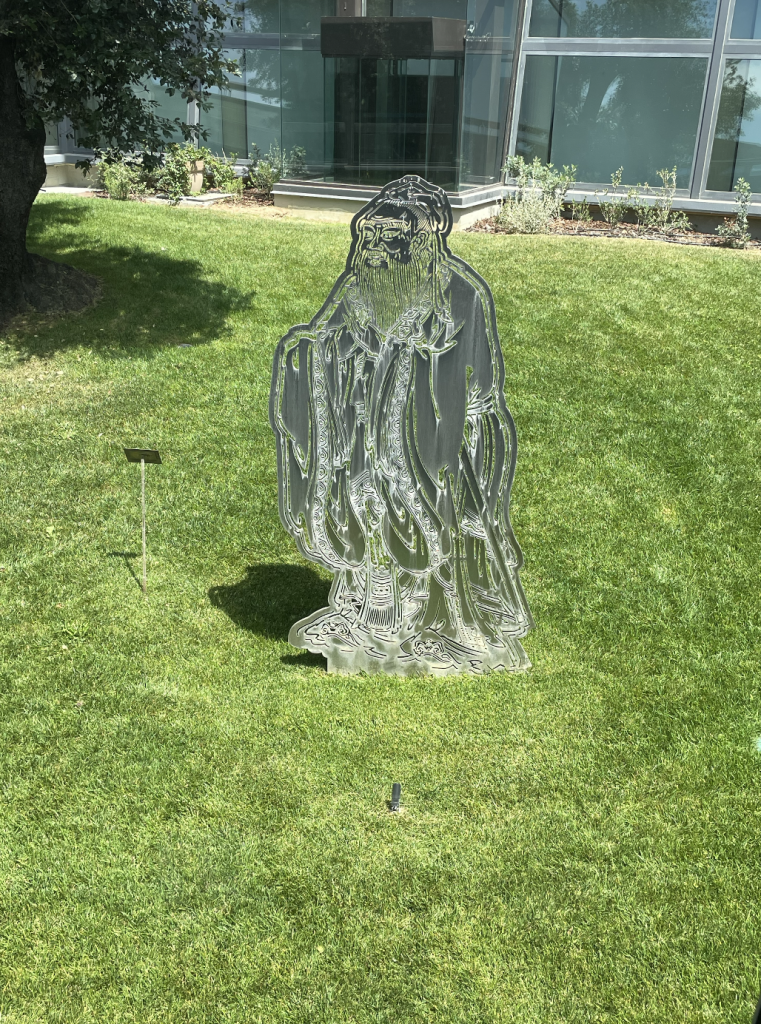 Altro capolavoro nato per questo progetto è "l'Armonia", ideata per celebrare la vendemmia 2007 della tenuta. Qui si tratta di un'opera a quattro mani creata dagli artisti Ghada Amer e Reza Farkhondeh, i quali hanno riprodotto un'installazione esterna presso la Tenuta, un giardino in cui trovano posto le lettere che compongono la frase Happily Ever After, ovvero "Vissero per sempre felici e contenti".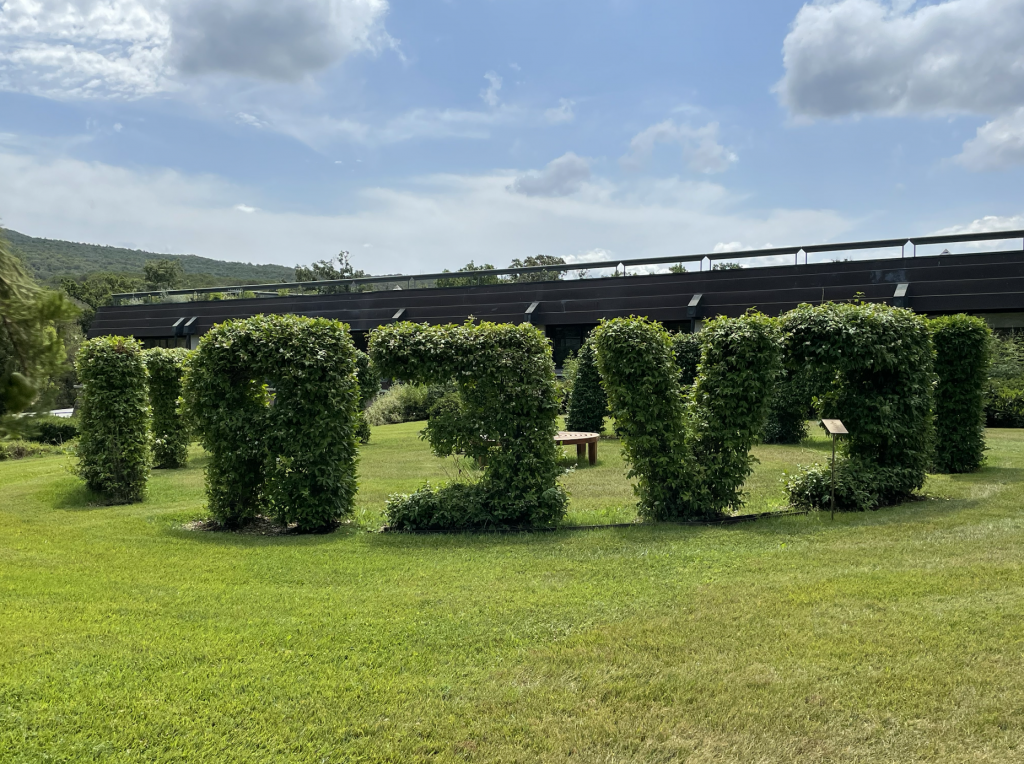 Il bello è che le installazioni artistiche non finiscono qui, ed anzi: prima di procedere con il tour, saliamo al piano superiore dove il panorama incantevole della tenuta fa da cornice alle bottiglie decorate con le etichette speciali facenti parte del progetto "Vendemmia d'Artista". Tra queste troviamo per esempio quella dedicata all'annata 2014 ("L'Essenza") creata dall'artista Ernesto Neto, quella di Tomás Saraceno dedicata all'annata 2017 ("Solare") e tante altre ancora: un vero tripudio per gli occhi e non solo.
Successivamente passiamo ad una delle parti della visita che mi hanno maggiormente colpito: la "capsula del tempo", ovvero la stanza nella quale vengono conservate tutte le annate mai prodotte – quindi dal 1985 in poi – della cantina. Se ho prestato correttamente attenzione, la tenuta ci ha confermato che praticamente per tutte le annate prodotte fino ad oggi esistono delle bottiglie disponibili – presenti tra l'altro in diversi formati – il che renderebbe un'eventuale verticale all-time di Ornellaia una vera e propria esperienza mistica qualora decidessero di effettuarla.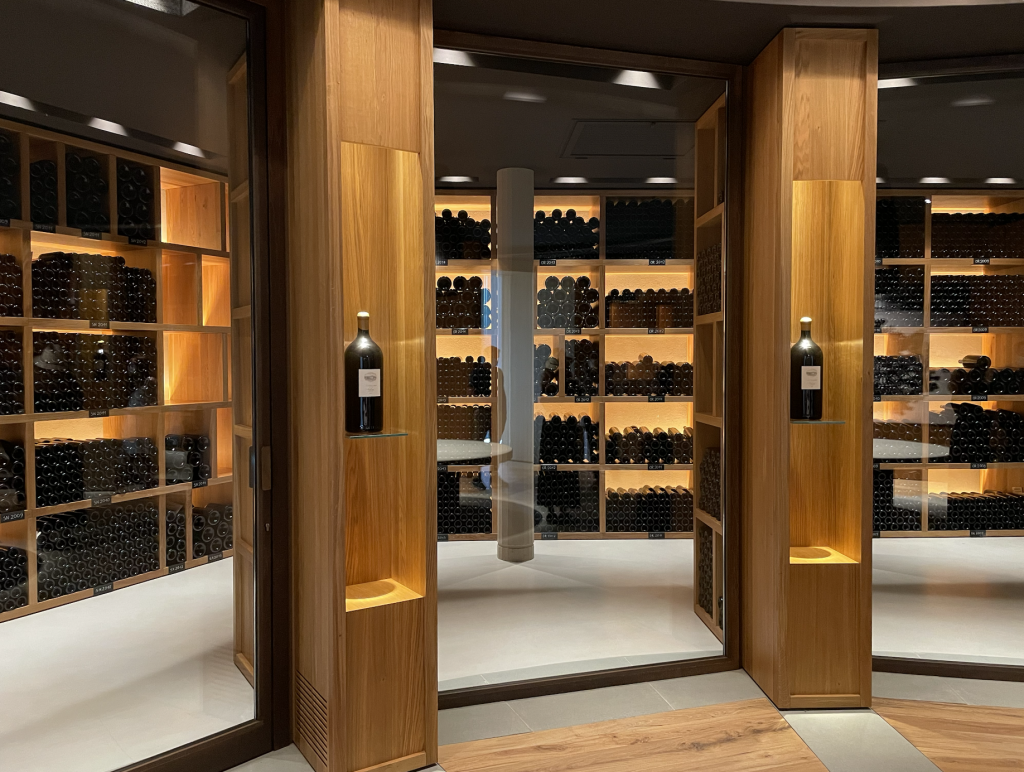 Credo però che ora sia tempo anche di descrivere l'esperienza gustativa, ovvero la scena chiave di questo spettacolo! La nostra visita include una degustazione di 5 vini, compreso ovviamente quello di punta della tenuta, ma andiamo con ordine.
PRIMO VINO IN DEGUSTAZIONE -> Poggio alle Gazze dell'Ornellaia 2019 (Toscana IGT Bianco)
Ebbene sì: siamo da Ornellaia, in quel di Bolgheri che è patria di celebri Supertuscan, ma per chi non ne fosse a conoscenza, la tenuta produce anche dei vini bianchi. Questo in particolare ha una predominanza di Sauvignon Blanc (78%), arricchito da un 16% di Vermentino ed un 6% di Verdicchio. Vinificazione suddivisa a metà tra cemento ed acciaio, con affinamento in bottiglia pari a 12 mesi. Il risultato finale vede un prodotto fragrante con note di frutta tropicale, agrumi e fiori d'arancio, mentre al gusto ho trovato molto piacevole il finale sapido. Personalmente lo consiglierei come vino da aperitivo per coloro che non sono molto propensi verso la bollicina, ma data la nota salina potrebbe sposarsi alla grande con un bel primo di mare, come spaghetti con le vongole. Per questa annata sono state prodotte ventimila bottiglie.
Prezzo medio online: circa €45 
___
SECONDO VINO IN DEGUSTAZIONE -> Le Volte dell'Ornellaia 2019 (Toscana IGT Rosso)
Fermentazione alcolica e malolattica in acciaio, seguite da un affinamento di 10 mesi divisi tra barrique e cemento: questo è il biglietto da visita di quello che la tenuta considera "un vino universale", prodotto nel 2019 in 650 mila bottiglie. Non ho le percentuali precise, ma il protagonista principale di questo vino dovrebbe essere il Merlot (corrispondente almeno al 50%), seguito da Sangiovese e Cabernet Sauvignon. Frutti rossi, una gradevole speziatura dolce ed una lieve nota floreale caratterizzano questo vino abbastanza tannico (temevo un'intensità maggiore, data la giovane età), di buon corpo e con una rotondità che lo rendono "facilmente" bevibile. Può dare sicuramente il meglio di se con qualche anno in più sulle spalle, ma francamente questo rappresenta uno di quei rossi che anche inseriti immediatamente sul mercato possono regalare grandi soddisfazioni.
Prezzo medio online: circa €19 
___
TERZO VINO IN DEGUSTAZIONE -> Variazioni in Rosso dell'Ornellaia 2016 (Toscana IGT Rosso)
La particolarità principale di questo vino è che si può degustare esclusivamente in azienda durante le visite. Si tratta di un vino rosso dedicato solo agli ospiti della tenuta (una trovata che a me è piaciuta molto) che prevede l'utilizzo degli stessi vitigni usati per la realizzazione dell'Ornellaia, ma con proporzioni diverse. Qui a recitare il ruolo del padrone è il Mertot (che ammonta al 72%), seguito dal 13% di Cabernet Sauvignon e completato dal 9% di Petit Verdot e 6% di Cabernet Franc. La fermentazione alcolica avviene in acciaio per due settimane; in seguito si svolge una macerazione di circa 10-15 giorni, mentre la fermentazione malolattica, cominciata in acciaio, prosegue in barriques (25% nuove e 75% di secondo passaggio). Infine, quindici mesi in legno ed altri 6 in bottiglia come affinamento. Il prodotto finale risulta al mio gusto più piacevole al naso che al gusto: tabacco, cioccolato, amarena, vaniglia e frutta sotto spirito sono i protagonisti olfattivi principali. Al gusto si rivela morbido e fine, facendomelo immaginare come un possibile partner di una bistecca alla fiorentina per un abbinamento nobile – da testare prima, ovviamente. 
Prezzo medio online: /
___
QUARTO VINO IN DEGUSTAZIONE -> Le Serre Nuove dell'Ornellaia 2018 (Bolgheri DOC Rosso)
Penultimo vino della batteria, il "fratello minore" dell'Ornellaia: praticamente due terzi del vino vengono prodotti in parti uguali con Cabernet Sauvignon e Merlot, mentre il resto (18% e 17% rispettivamente) viene integrato con Cabernet Franc e Petit Verdot. Tanta frutta rossa al naso e molti frutti di bosco: sentori come quelli di lampone e mora sono distintamente riconoscibili. Si avvertono anche note meno intense come quelle di pepe rosa (un profumo che riconosco sempre con facilità dopo alcuni piatti cucinati con esso), rosa, spezie e peperone. Al gusto la componente tannica è ben bilanciata, non portando affatto quella sensazione di astringenza che alcun vini rossi giovani conferiscono. Inoltre chiude con un finale abbastanza sapido: lo vedrei alla grande con un bel piatto di pici al ragù di cinghiale, ma mi piacerebbe testarlo anche accanto alla ribollita. Forse potrebbe esserci uno squilibrio tra piatto e vino, ma è un esperimento che un giorno approccerò.
Prezzo medio online: €42
___
QUINTO VINO IN DEGUSTAZIONE -> Ornellaia 2018 (Bolgheri DOC Superiore Rosso)
Qui ovviamente siamo al pezzo da novanta della Tenuta. Il principale cavallo di battaglia di Ornellaia vede un blend di Cabernet Sauvignon (40%), Cabernet Franc (7%), Merlot (in prevalenza, 51%) e Petit Verdot (2%), per uno dei classici tagli bordolesi per antonomasia. Fermentazione alcolica in acciaio e fermentazione malolattica in barriques di rovere (70% nuove e 30% di primo passaggio), con il  vino rimasto in barriques per 18 mesi; dopo i primi 12 mesi è stato effettuato l'assemblaggio e quindi reintrodotto nelle barriques dove ha trascorso altri 6 mesi, per poi affinarsi in bottiglia per altri 12 mesi prima dell'introduzione sul mercato. Facendo così ci ritroviamo un vino elegante e complesso, con un bel rosso rubino carico e al naso suadenti note di liquirizia, frutta rossa e dei piacevoli sentori balsamici. In bocca, nonostante la giovane età del vino, il vino risulta "tannicamente" quasi vellutato, con una bella complessità e struttura e una piacevolissima persistenza, quasi a richiamare il boccone del piatto da accompagnare a tale leccornia – un bel cinghiale in umido, magari? Nonostante la giovane età si conferma un vino da grandi occasioni e francamente provo solo ad immaginarmi la complessità olfattiva e gustativa che potrebbe raggiungere con un po' di invecchiamento a medio termine (dai 10 ai 15 anni).
Prezzo medio online: €190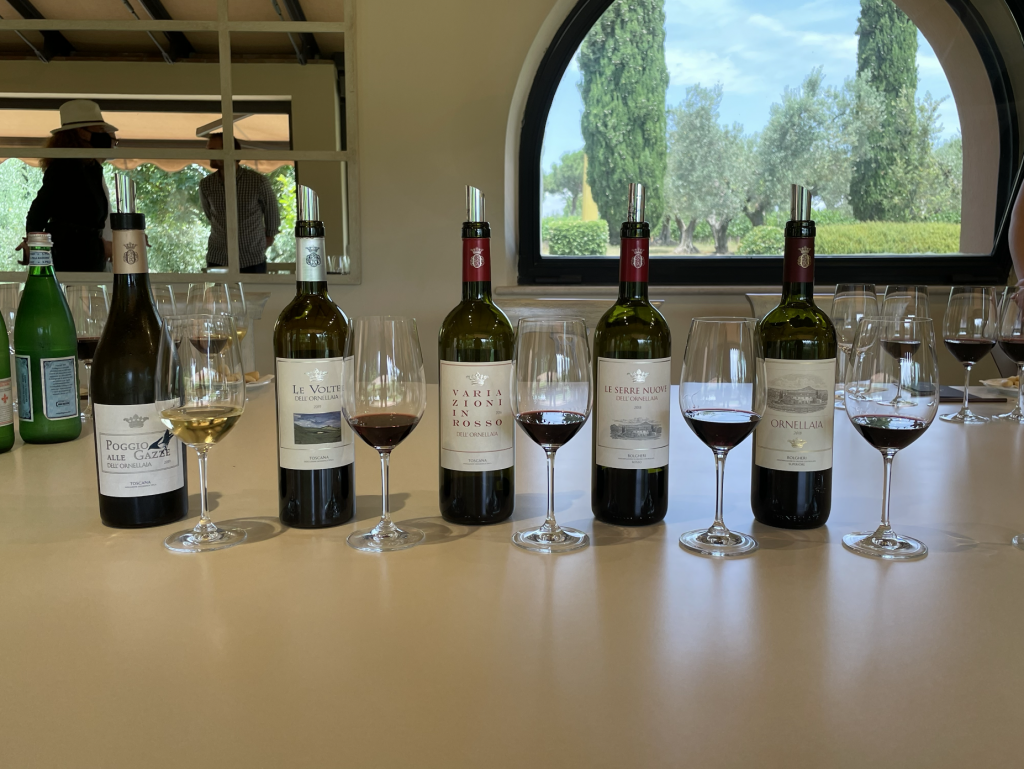 Tuttavia non finisce qui. La tenuta ci ha infatti gentilmente permesso di assaggiare ben tre altri prodotti dell'azienda.- tra cui uno che speravo molto di poter gustare.
VINO EXTRA IN DEGUSTAZIONE -> Ornus dell'Ornellaia 2017 (Toscana IGT Bianco)
Ho una "particolare", per non dire "eccessiva", predilezione per i vini dolci, quindi era quasi obbligatorio per me chiedere se fosse stato possibile poter degustare anche l'Ornus, un vino dolce prodotto con Petit Manseng in purezza. Realizzato tramite vendemmia tardiva, è un vino prodotto in quantità molto limitate, il cui nome prende ispirazione dal "Fraxinus Ornus" (l'Orniello), l'albero a cui si deve il nome di Ornellaia. Giallo dorato e luminoso alla vista, trionfi di frutta secca, miele ed albicocca all'olfatto, mentre in bocca risulta piacevolmente equilibrato grazie alla spalla acida conferita dal vitigno stesso che rende il prossimo sorso ancora più piacevole del precedente. Non c'è nulla di più deludente infatti di un vino dolce stucchevole, dato che la beva in quel caso diventa quasi pesante, impedendo al nostro palato di desiderare un ulteriore sorso. Quando, come in questi casi, dolcezza e freschezza quasi si mescolano in un trionfale matrimonio, il risultato è un vino appagante.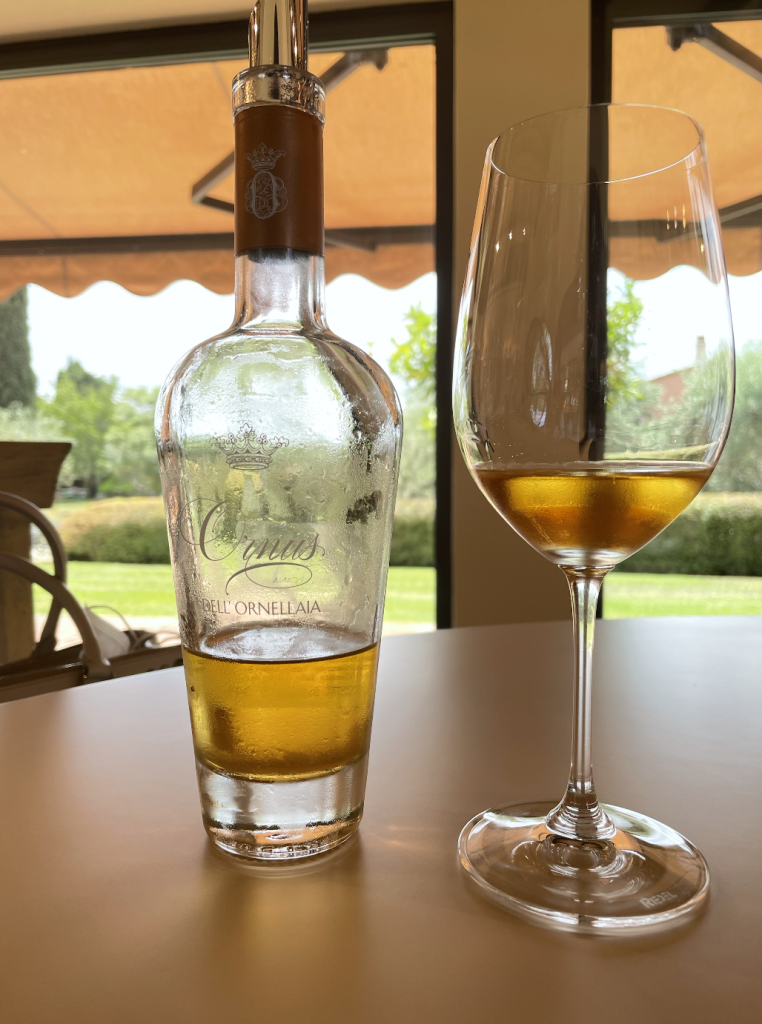 Prezzo medio online: €69
___
DISTILLATO EXTRA IN DEGUSTAZIONE -> Eligo dell'Ornellaia (Grappa Riserva)
Qui non mi pronuncio più di tanto, dato che la mia competenza (ed inclinazione) verso la grappa è assai risicata. Mi è piaciuta? Al mio gusto l'ho trovata davvero alcolica, ma ahimè non ho ancora capacità tali da degustare ed analizzare correttamente le grappe.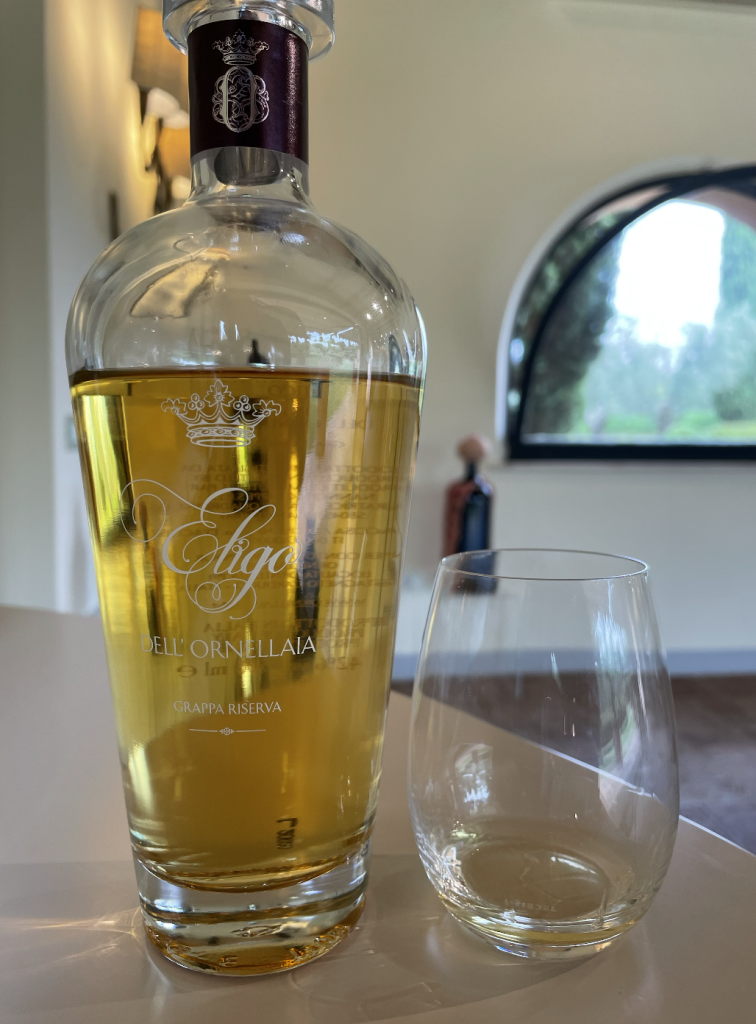 ___
OLIO EXTRA IN DEGUSTAZIONE -> Olio dell'Ornellaia 2020 (Olio EVO)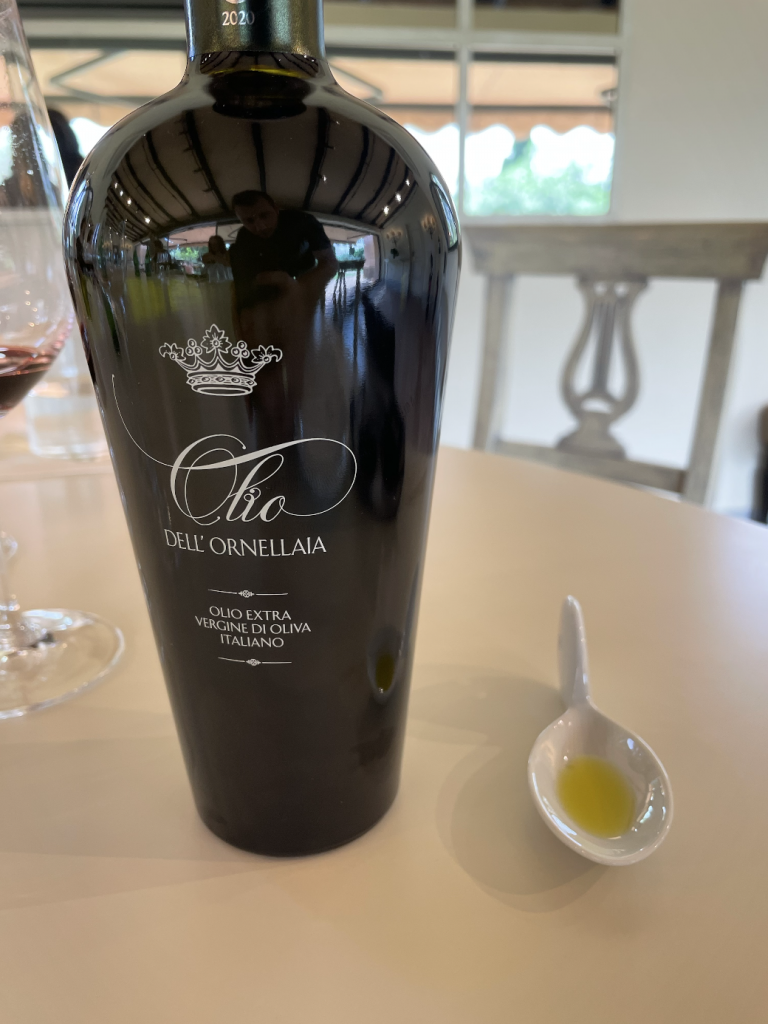 Sono un po' incerto sugli "ingredienti" utilizzati per la realizzazione di questo olio extravergine d'oliva, ovvero le cultivar. Andando a curiosare sul sito, trovo scritto che nei loro "oliveti si coltivano varietà come il Frantoio, il Moraiolo e il Leccino ma anche varietà più locali come il Gremignolo di Bolgheri, l'Olivastro di Suvereto e la varietà Ornellaia che ha preso il nome dal podere attorno al quale oggi si sviluppa la tenuta". Pertanto presumo che quest'olio sia un blend di tutte queste varietà e sicuramente il risultato è stato affascinante: mandorle ed erbe aromatiche prevalgono all'analisi olfattiva, mentre al gusto risulta moderatamente amaro e piccante. Non è sicuramente un olio da vellutata, ma opterei per qualcosa di più sostanzioso; da una semplice bruschetta degna di questo nome a magari uno spaghetto aglio, olio e peperoncino davvero suggestivo!
CONCLUSIONI
C'è poco da aggiungere, se non il prezzo: €100 per un'esperienza esaustiva e durata circa 140 minuti. Vale la pena? Sì, ma tanto! Non è un commento molto tecnico, ma penso che già dalle prime parole abbia fatto trasparire la mia eccitazione nell'essere riuscito a visitare una cantina così prestigiosa.
Per chi ne avesse la possibilità, questa è una di quelle esperienze di enoturismo da dover fare assolutamente per poter vedere con i propri occhi quanto possa essere alto il livello raggiunto da certe realtà del nostro panorama.
Con la speranza di essere riuscito a trasmettervi il mio entusiasmo per questa visita, ne approfitto per ringraziare tutti coloro della Tenuta Ornellaia che ci hanno accolto.
The Taste Seeker